Note:
I apologize in advance for the length of this post. If you can offer some help, please see my issues list at the bottom of the first post. I wrote the rest to make a nice log when I'm (hopefully) successful
I've come into possession of what I believe is a Subaru PnP "Beta" unit from the early 2000's. With any luck, I intend to get it working again in my 2002 USDM WRX! I have a few questions for everyone here, and I hope that I can consolidate some information that I have found along the way in order to help people like me out in the future.
First things first, the board:
Picture of the Main Board: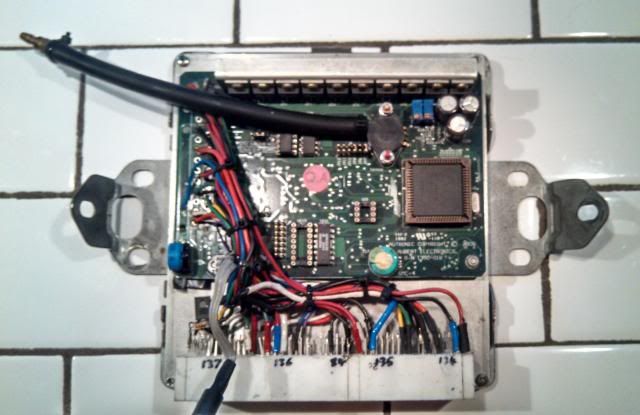 Picture of the "Dwell" Board: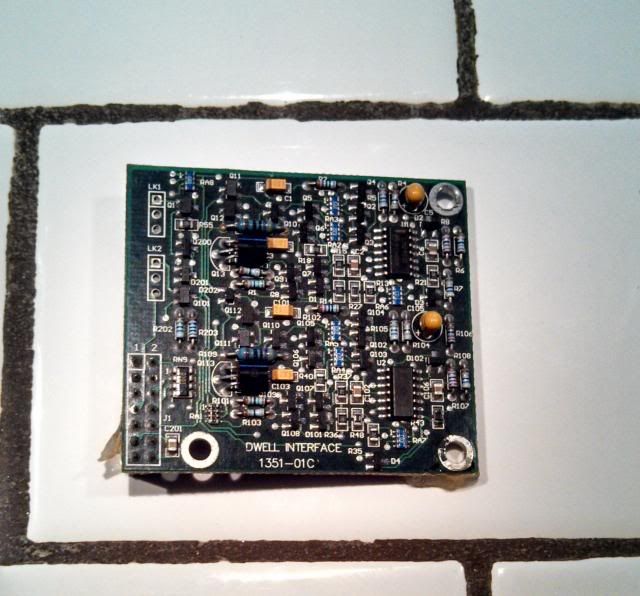 Picture of the Board Details, S/N, Model, etc:
I have researched
here
and learned that the "Beta" boards were basically an SMC that had a Dwell board added, thus making an SMC into an SMD. Unfortunately, I still have no idea what a dwell board does, but hey, at least it's a start.
I found the latest version (at present) of the SMC tuning software here:
http://www.autronic.com.au/Downloads.php
I found the latest version (at present) of the Subaru PnP base map here:
http://www.mrm-racing.se/forum/showp...09&postcount=4
And the latest PNP manual here:
http://www.mrm-racing.se/forum/showthread.php?t=627
I lucked out in that my friend still had the Version 1.00 PnP Install Manual that he used, so I at least had some idea after reading through it what manual to look for.
At first, after installing the software I had no luck connecting to the board for tuning. It wasn't until reading the thread posted earlier that I realized that a change must be made to the shortcut in order to load the required software!
After normal installation:
1. Right-click the "SMC SM2" desktop shortcut
2. Select "Properties"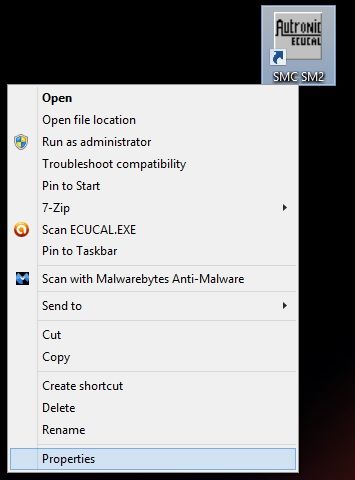 3. Change the "Target:" portion from this: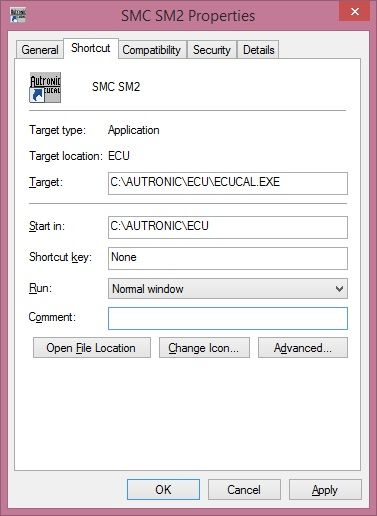 To this:
4. Finally, when you open the SMC software you can change your ECU type. Select "Change ECU type" from the FileCal menu:
5. Then select "SMC-2.00-Autotune"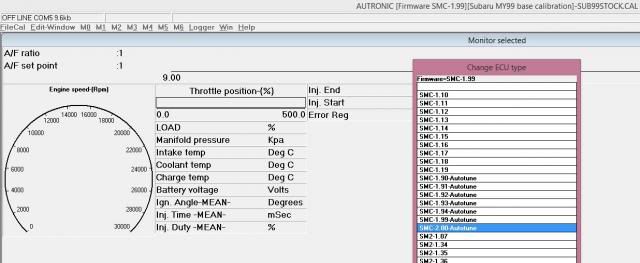 6. Pressing F3 should now connect to the ECU. Huzzah!
Installation of the SMD board itself was straightforward, but I did hit a few snags:
1. The original Autronic temp sensor has gone missing. As such, I ordered a GM NTC style sensor from
here
.
2. The board jumpers/locations didn't really match the 99-00 or 01-04 Installation Notes in the PnP manual.
3. I have no access to an Autronic wideband, and thus used the stock O2 sensor.
4. The map I used to drive home (the one installed on the unit) was meant for a similar but not identical car.
After installing everything, changing a blown ignition fuse, and fixing a fuel line leak, the car started right up! It was definitely interesting hearing the ECU ramp through the idle range while it sorted itself out. I then proceeded to drive the car home and finish the 500 mile break in. It is now sitting in my garage while I sort out some issues I am currently having and hope to solve soon.
CURRENT ISSUES
- Car will not start without starter fluid, or sometimes at all.
Steps so far: Checked for fuel and confirmed the fuel pump is good. Changed spark plugs and rechecked all ignition wiring. Read SMC manual on setting up a crank trigger (which doesn't seem possible with and SMC on this car?). Just got a timing light and will try to verify ignition timing next.
RESOLVED ISSUES

- The temp sensor keeps giving an error and only reads out 25*C. I searched the forums and learned that the "Charge Temp" is actually a modified average of the coolant temp and intake temp and not another sensor reading, so that solved that mystery. I've been lucky that the ambient temp has actually been close to 25*C, but I need to get to the bottom of this ASAP.

Steps so far: Changed Upper Board Jumper "JP7" to installed. Selected "NTC type" under Air temp sensor in software menu M1. Did a continuity check and found the IAT signal from the sensor to the ECU is good. Found out there is no wire from Pin B27 on the header to the Autronic board!

*Solved by slicing IAT sensor to MAF sensor wires. See post #6.

- Selecting the stock O2 sensor gives a fairly steady input. Not sure I have this set right...

Steps so far: Selected these settings in Menu M1:



*Solved. This setting will indeed read a stock narrowband (~0.5 volt = ~14.7 AFR). My board doesn't seem to be wired up to the stock O2 sensor heaters though, so the reading stays stuck at ~0.01 volts.

- I'm trying to see if I can get my AEM X-WIFI wideband to provide a useful input to the Autronic via an Arduino. Unfortunately, it seems to have other opinions about even being a wideband at the moment. I will need to verify it works on it's own first.

Steps so far: Found out in this post and this post that the Autronic takes a linear 10-30 AFR, 0-1 Volt or a linear 10-30 AFR, 0-5 Volt signal. I'll work on this some more after resolving why my wideband ssid isn't broadcasting...

*Solved. Arduino has succesfully been used as a programmable Wideband to Autronic adapter. Called AEM, and the wideband needs to go in for repair to fix the wifi issue.