I am happy to announce that we have preseries production on a range of products that is of interest for the Autronic tuning community.
We have more parts that soon will be available, but will announce that later
1) AUDI/BMW 55pin Plug&Play adapter
Autronic SM4/SM3 adapter loom for applications on vehicles with 55-pin Motronic 1.3 ECUs, including Audi 200TQ 20V -91 AAN/ABY UrS4/UrS6/S2/RS2 / S4/S6 20v turbo 92-95, and a wide range of BMW vehicles, (including the V8 models), as well as a large variety of other model vehicles equipped with a Motronic 1.3 ECU.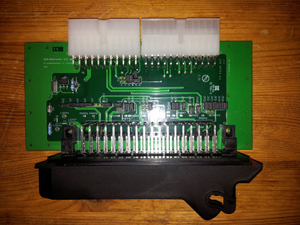 The adapter comprise an adaption circuit board (in box enclosure), which is strap configurable for variations in Mot1.3 pinouts depending on vehicle model, and a cable connecting the adaption board with the Autronic SM4/SM3. The cable will be available in at least two standard lengths. The motronic adapter could also have an ignition expander integrated.
2) ImprezaMY98 64pin Plug&Play adapter
Autronic SM4/SM3 adapter loom for Subaru Impreza GT 97-98 models with the 64 pin ECU connector.
3) 5/6 output passive ignition expander.
Autronic SM4/SM3 ignition output expander that handles applications with both 5 and 6 ignition outputs. Hermetically sealed 50 x 50 x 15 mm moulded box with 12 pin Mate&Lock connector, (which optionally can be fitted with water seal to achieve IP57 seal on the cable connector).
(The passive *ignition expander is recommended mainly for
dwell type ignition).
4) 5/6/8 output fault tolerant active ignition expander
Autronic SM4/SM3 ignition output expander that handles all applications from 5 to 8 ignition outputs. The active expander handles signal faults like, for example, spikes, ground induced false triggering, through use of digital signal error correction, thus producing clean & crisp expanded ignition outputs without false firing that is needed for use with CDI ignition. Controlled propagation delay on the ignition
outputs between 1.0 < Tpd < 2.0 microseconds (pin to pin).
First version is boxed in a 120 x 103 x 21 mm Alu casing, and sold preconfigured for either of the following modes:
***+VePulse
***-VePulse
***+VeDwell
***-VeDwell
After some testing, a second model will be released, with similar specifications, but boxed in a 120 x 78 x 27 mm Alu casing, and featuring internal strap configuration for all modes +VePulse / -VePulse / +VeDwell / -VeDwell including different polatity on the outputs than on the inputs from the SM4/SM3. (Version 1 and 2 are pin compatible, and version 2 will replace version 1 in future).